CHALLENGE BOUT SCHEDULE
Today we release possibly the most anticipated schedule of the tournament, the Challenge Bout Schedule! Yaaaay! {{crazy Kermit arms}}
Attached is a copy of this gloriously daggy beast. You can also find it and an updated version of the Tournament Schedule on our website here.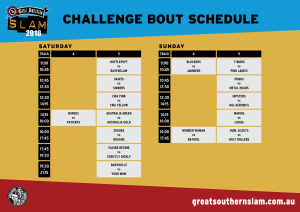 CHALLENGE BOUTS: WE WANT YOU!
A happy result of reintroducing Team Potluck is we now find ourselves with free Challenge Bout spots we're looking to fill. So if you haven't registered already this is your last chance to be part of the sparkliest, funnest, most fabulous part of TGSS.
For the low low price of $66 (GST incl) you can skate in up to 3 fun mash-up bouts over the weekend. All skaters MUST have passed minimum skills, be currently league affiliated, and have permission from their league.
As always, time is tight. If you're interested in joining the party contact us at tgsschallengebouts@gmail.com by 5pm THIS THURSDAY (26/5) to secure a spot.
LIMITED EDITION MERCH (we have a wee bit more of some items)
But that's not all we have for you today. For those of you brokenhearted you missed out on bagging some of that sweet 80s merch, we're looking to heal some of that hurt. A few of the 80s WOW hats and stubby holders are still available but only while stocks last. So hop on over to our merch store before they really are gone forever.
In case we haven't made it crystal clear before, t-shirts are $25 online, however will be $30 at TGSS, so pre-purchasing saves you a glorious $5! That's a Coke & change, most of a beer, part of a veggie roll, 1/3 a tandoori chicken…
TICKETS
Weekend passes ($60 + bf) are presale only and available from Oztix.
Day passes are available on the door: Saturday and Sunday $20, Monday (finals) $30.
—
With less than 20 sleeps until TGSS, we're shaking with excitement in our stripey-socks and bet you are too!
Love and bumps
TGSS Ops Committee & Adelaide Roller Derby x